PLEASE NOTE: AFROSIPPI HAS DISBANDED AS OF SEPTEMBER 2016. THANKS TO EVERYONE FOR ALL YOUR SUPPORT!!
Veteran Bluesman and Northern Blues/Plan-It Records recording artist, Dan Treanor has been entertaining and thrilling audiences for over forty five years. His band, the Afrosippi Band featuring Erica Brown, has graced the stages of some of Colorado's premier clubs and festivals. The Taste Of Colorado, The Mile High Blues Festival, Longmont's Rhythm On The River, Winter Park's Blues From The Top, The Greeley Blues Festival, The Pueblo Chili Festival to name a few. they have also played the prestiagous stage at the Orpheum Theater in Memphis, as well as several legendary blues clubs on Beale Street.
The band plays Afrosippi Blues, R&B, Rock and Roll, Soul, Raggae and World grooves with equal part skill and power. They sprinkle in some Dylan and Cajun for a little spice. A tasty stew indeed. Erica is a nationally recognized Blues vocalist and top notch entertainer. Great stage presence and lots of fun are trademarks of one of their shows!
At the 2013 International Blues Challenge in Memphis, Tenn., the band took home 3rd place honors, out of over 220 bands worldwide that participated.
Dan Treanor: Lead Vocals, Background vocals, Harmonica, Guitar, Khalam:
Dan Treanor began playing guitar at the age of fifteen. Discovering the Blues and R&B through a local radio station – KAPI – he developed a life long passion for the root of all popular American Music – THE BLUES. When a typical teenager might have been found listening to the latest top 40 AM hit, Dan, a self taught musician who plays by ear, would spend hours listening to the likes of Ray Charles, B.B. King, Jimmy Reed and Slim Harpo, trying to emulate their playing style. He was also heavily influenced by the music of Bob Dylan and Hank Williams. By the age of sixteen, with his Silvertone guitar, he was playing in his first band – "The Marauders". In his career he has shared the stage with Son Seals, Frankie Lee, Louisiana Red, Jimmy Carl Black, Corey Harris, George "Boogie Woogie" Daniels, Bob Margolin and Guitar Junior to mention a few icons. He is considered one of the top harp players in the business. He has played harp, guitar and dobro on over 100 45s, LPs, CDs and motion picture sound tracks. In 1994 he was named a Hohner Harmonica endorsee. He has toured Europe twice and represented the Grand County Blues Society two times at the International Blues Challenge in Memphis. He is a charter member of the Colorado Blues Society and the Blues Foundation. He has received several awards from various Blues Societies in recognation of his Blues In The Schools contributions. He is the recipient of the 2012 KEEPING THE BLUES ALIVE award from the Blues Foundation.
Michael Hossler: Electric and acoustic guitar, lap steel guitar and vocals:
Born in Kentucky to a musical family, raised in the Midwest, and turned loose to play in the crazy days of Boulder County, Colorado in the '70s offered this 1980 Guitar Institute of
Technology graduate ample opportunity to explore many diverse sonic environments. He has performed with, Vunkelin, Dolomite, Connie and the Cadillacs, The Rogues, Sundance and
the MIB, Ace Butler and the Aces, The Coasters, The Platters and The Marvelettes.
Michael has won several awards for his songwriting including 4th Place Best Guitarist in the 1987 Colorado Songwriting Contest. His 1998 release 'Another Day in Paradise' earned
him finalist Best Jazz Artist category of the 2000 Los Angeles Music Awards Show in Beverly Hills, CA; as well as two runner-ups in the Latin category and one honorable mention in the 2001
John Lennon Songwriting Contest. Michael join the Afrosippi Band in March of 2009 and has been an intergral part of the Afrosippi sound since.
Mike Wysocki: Bass & Vocals:
Mike has been a working bass player on the road and in the Denver area since the 1970's. The past few years working in the country vein with the likes of The Ruthie Garret Band, Brahma Boogie, Barbie Campbell, and Lonesome Dove. His love for the Blues has had him working with Johnny Vaughn and local legend Bob Hornbuckle, and now has him in the line up with the Afrosippi Band providing that steady bottom and in the pocket groove he is known for.
Scott Headley, Drums:
Scott Headley enjoyed a decades-long career as a drummer for the prestigious U.S. 9th Army Band. In his civilian career, he's played with some of Colorado's finest bands, including G'Jai's Jook Joint Blues Band, and Boa and the Constrictors, in addition to hosting blues Jams at top venues such as Jazz at Jack's and El Chapultepec!
Merrian Johnson: MJ / Neo Soul, R&B Beauty Through The Microphone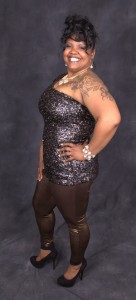 "Music is what keeps my heart moving rhythmically, my face smiling, and my soul content.
I can't live without it, what can't YOU live without?"
MJ has been wowing audiences with her amazing vocal gift for most of her life. She has always seen the world a bit differently, and strives to bring the beauty she sees out through the microphone. She says, "I'm honored and excited that people want to hear what I'm doing, and I've really been gratified by the response I've received!" It shouldn't be a surprise, though, for one listen to her bright, powerful, crystal-clear vocals dispels the notion that this Neo-Soul child should be anywhere else except the stage! In 2013, MJ joined forces with International Blues Challenge winners Dan Treanor and his band Afrosippi. His 2013 CD, entitled Tangled Road Again–with MJ sharing vocal duties with Colorado's "Queen of the Blues," Erica Brown, has been hailed as an amazing effort and is garnering great reviews in major magazines such as: Living Blues–United States'Premier Blues Publicatio: Blues Matters —United Kingdom's largest Blues Magazine: La Hora Del Blues–Vicente Zumel 2013's Blues Foundation's Keeping the Blues Alive recipient-co-founder Barcelona Blues Society, Barcelona, Spain: Rootstime —Belgium. MJ was nominated for the 2014 International Blues Challenge's Best Self Produced CD–BSPCD, Competition by the ColoradoBlues Society. MJ is also a member of the Erica Brown & Friends Band, and has played prestigious festivals including the Telluride Blues & Brews Festival, Bohemian Nights New West Fest, and the Taste of Colorado, as well as supporting superstar acts such as the Neville Brothers and Soul of John Black. Having worked on the 2013 CD Tangled Road Again, MJ collaborated with Plan-It Records Recording artistDan Treanor's CD (2012), Bad Neighborhood, and Grady Champion guitarist Taylor Scott on his newest Release, Soul Satisfaction. MJ was an Invited Guest Workshop Artist & Concert Performer atTrance Blues Creator Otis Taylor's 2013 Trance Blues Festival, sharing the stage with Fiddle Phenomenon Anne Harris, and Grammy-Nominated Recording Artist & Broadway Star Cathy Richardson.
MJ supports many worthy causes, and lends her voice and vocal gifts to many benefits, fundraisers, and nonprofit organizations. Just a few of these are: America's Dinner for Those Who Hunger, which commemorates the life of Martin Luther King Jr., hosted by the Volunteers of America; Girls Rock Denver, an all-volunteer organization dedicated to helping empower young women and girls by putting instruments in their hands and unveiling what they already possess in their feet, fingertips, vocal cords, hearts, and minds; benefits for the Victims of the devastating Floods in Colorado; and 89.3 KUVO and 88.5 FM/1390 AM KGNU Radio where she served as a volunteer on-air "PitchPartner" fundraiser for both these community-powered radio stations for many years. She has helped raise thousands of dollars to further the cause of community radio in Colorado.