Erica Brown, Blues at its Finest!!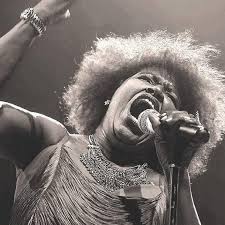 Miss Erica Brown is a Singer, Songwriter, Recording Artist and Actress based in Denver, CO.
She has been singin' the blues all her life and has truly seen and lived the Blues. As she shares her gifts with the world, the world has taken notice, from publications like Living Blues and Chicago Blues Guide in the US to Blues Matters in the UK, and Rootstime in Belgium.
MUSIC:
Erica has long been a mainstay in Colorado's Music scene. From 1998-2008, as frontwoman for the Award-winning Erica Brown Band, Erica electrified audiences all over the Rocky Mountain region with the band's brand of searing blues rock. The band won nearly every award the region offered, including Best Blues Band (Westword Magazine) Best Underground Blues Band (Denver Post, multiple years) and The Rocky Mountain News' Best of in the Blues Category. The band released two critically acclaimed CD's, "Body Work" in 2000, and "Rough Cut Stone" in 2003. Erica was dubbed "Denver's Queen of the Blues", a moniker that was used by the Altitude Network in their concert showcase feature "OnStage", which was broadcast to five million households in ten western states in 2005.
In 2008, Erica began her Solo career.
In 2013, Dan Treanor's Afrosippi Band featuring Erica Brown garnered 3rd Place Honors in the International Blues Challenge (IBC) sponsored by the Blues Foundation in Memphis, TN. That year, over two hundred bands competed in what is the premier competition for blues bands worldwide.
In 2016, Erica was contacted by Grammy-nominated Bluesman Carl Gustafson, (Blinddog Smokin' Blues Band) and was asked to contribute vocals to a project he was producing, along with 2017 Grammy Winner in Traditional Blues, Blues Man Bobby Rush. That project has blossomed into the epic music novel "MOJA: A Music Saga", the story of Rush's family, the Ellis Family. Erica voices Bobby's Rush's ancestress on the song "She Did What She Had to Do." Artists from around the world have contributed to this incredible telling of an important African and American Story.
Along with Rush on harmonica, a fraction of the other musicians on the project include "The 500" (the 500 musicians and artists on this incredible Project!!) Blues Woman Teeny Tucker (daughter of Tommy Tucker, writer of the 1963 Hit "Hi Heel Sneakers"), Ms. Tata Vega (the "musical voice" of the character "Shug" in the movie The Color Purple), gospel vocalists The McCrary Sisters, 2020 US Artists Fellow Dom Flemons, Harmonica Master Billy Branch, vocalist Natalie Cadet, famed gospel, rock, blues, jazz and funk B-3 organist Cory Henry, along with Mississippi Hill Country blues (and sons of R.L. Burnside) brothers Gary and Duwayne Burnside, Blues Guitar master Lightnin' Malcolm, African Folklorist and master Djembe player Weedie Braimah, West African Ngoni Master Bassekou Kouyate, Cuban drummer Pedrito Martinez, multi-instrumentalist Fabian Chavez, guitarist George Dez, and scores more Artists!! The massive, 8-volume project released in early 2022, in individual Volumes. To purchase the project on Spotify, or listen to an episode, go here: https://bit.ly/MOJA-SpotifyArtist
AWARDS:
Erica has been awarded Colorado's Five Points Jazz Festival's Tribute Award for significant and lasting contributions to music and culture in the historically African-American Five Points Neighborhood, and throughout Colorado!
In 2013, Dan Treanor's Afrosippi Band featuring Erica Brown garnered 3rd Place Honors in the International Blues Challenge (IBC) sponsored by the Blues Foundation in Memphis, TN. That year, over two hundred bands competed in what is the premier competition for blues bands worldwide. Since then, in tandem with the IBC competition, Erica conducts the Livestream Interviews for the National Women In Blues Showcase Day during IBC Week.
In 2016, what would become a double page "Center-Magazine-Splash" photo of Erica taken during the Women In Blues Showcase by Superstar Photographer Danny Clinch was featured in Smithsonian Magazine's Historic September 2016 companion issue for the opening of the National Museum of African American History and Culture (NMAAHC) in Washington DC. Attendees of the Museum opening on September 24, 2016 included a Dedication by then-President Barack Obama. Erica is deeply honored to be included in such a special Smithsonian issue.
STAGE AND THEATER:
Erica has been featured in a number of stage productions throughout her career. In 2018 Erica took a star turn as the character Nancy Foster in Emancipation Theater Company's World Premiere of its' inaugural stage production Honorable Disorder. The show received rave reviews from multiple publications, including the Denver Center for the Performing Arts (DCPA).
Merrian Johnson: "MJ" / Neo Soul, R&B
Beauty Through The Microphone
"Music is what keeps my heart moving rhythmically, my face smiling, and my soul content.
I can't live without it, what can't YOU live without?"
MJ has been wowing audiences with her amazing vocal gift for most of her life. She has always seen the world a bit differently, and strives to bring the beauty she sees out through the microphone. She says, "I'm honored and excited that people want to hear what I'm doing, and I've really been gratified by the response I've received!" It shouldn't be a surprise, though, for one listen to her bright, powerful, crystal-clear vocals dispels the notion that this Neo-Soul child should be anywhere else except the stage! In 2013, MJ joined forces with International Blues Challenge winners Dan Treanor and his band Afrosippi. His 2013 CD, entitled Tangled Road Again–with MJ sharing vocal duties with Colorado's "Queen of the Blues," Erica Brown, has been hailed as an amazing effort and is garnering great reviews in major magazines such as: Living Blues–United States' Premier Blues Publication: Blues Matters —United Kingdom's largest Blues Magazine: La Hora Del Blues–Vicente Zumel 2013's Blues Foundation's Keeping the Blues Alive recipient-co-founder Barcelona Blues Society, Barcelona, Spain: Rootstime —Belgium. MJ was nominated for the 2014 International Blues Challenge's Best Self-Produced CD–BSPCD, Competition by the Colorado Blues Society. MJ is also a member of the Erica Brown & Friends Band, and has played prestigious festivals including the Telluride Blues & Brews Festival, Bohemian Nights New West Fest, and the Taste of Colorado, as well as supporting superstar acts such as the Neville Brothers and Soul of John Black. Having worked on the 2013 CD Tangled Road Again, MJ collaborated with Plan-It Records Recording artist Dan Treanor's CD (2012), Bad Neighborhood, and Grady Champion guitarist Taylor Scott on his newest Release, Soul Satisfaction. MJ was an Invited Guest Workshop Artist & Concert Performer at Trance Blues Creator Otis Taylor's 2013 Trance Blues Festival, sharing the stage with Fiddle Phenomenon Anne Harris, and Grammy-Nominated Recording Artist & Broadway Star Cathy Richardson.
MJ supports many worthy causes, and lends her voice and vocal gifts to many benefits, fundraisers, and nonprofit organizations. Just a few of these are: America's Dinner for Those Who Hunger, which commemorates the life of Martin Luther King Jr., hosted by the Volunteers of America; Girls Rock Denver, an all-volunteer organization dedicated to helping empower young women and girls by putting instruments in their hands and unveiling what they already possess in their feet, fingertips, vocal cords, hearts, and minds; benefits for the Victims of the devastating Floods in Colorado; and 89.3 KUVO and 88.5 FM/1390 AM KGNU Radio where she served as a volunteer on-air "PitchPartner" fundraiser for both these community-powered radio stations for many years. She has helped raise thousands of dollars to further the cause of community radio in Colorado.